---
Read our Copyright Notice click here
For publication dates click here
---
The Sir John Soane's Museum, Lincoln's Inn Fields
---


The energy rating system is a disgrace designed to introduce inexpert people into the system and, for larger buildings, to give work to BRE when it was sold off. It should be scrapped.

Dump obligations on developers if you wish, who will fight back, but leave households alone and keep interfering council people away from them or lose votes.

The regulatory regime in relation to insulation prevents good design and is unsafe to boot.

It has not decreased building stock energy consumption.

We have an energy rating industry that does not need to be there at all when there are staff shortages across the economy.

Let the buyers impose conditions on developers : 'we want a dwelling with good environmental conditions in all aspects and with no use of flammable insulation'.

The persistent calls for domestic building retrofitting is throwing sand in people's eyes about the materials that will be used. Loft insulation and improved glazing are just about the only mass viable domestic retrofitting options that do not create environmental problems and displacement of residents just as fitting an electric engine to every old car is not viable.

Spot the older materials and those you would guarantee are not flammable? :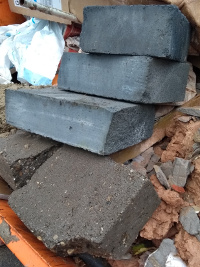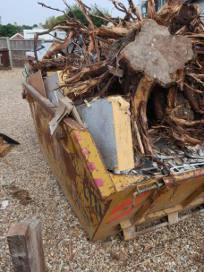 The identifiable items in the top skip are non-flammable and older. The blockwork, though thicker, is as good an insulator as the insulation in the bottom skip and if installed even thicker and more modern provides excellent additional structural strength, insulation and sound isolation.

The identifiable items in the bottom skip - the timber and the insulation - are flammable. The insulation burns faster and with more toxic fumes. Once flame and oxygen get to the yellow part it is going to roar away so do not put it on the Guy Fawkes bonfire.

There is limited obvious choice for non-flammable wall insulation in Britain - concrete blockwork and mineral wool.

Hemp and the like burns slowly.

*****

It is better to give money directly to people than to subsidise the energy companies and pursue public works programmes a substantial proportion of the population are not interested in as Labour is proposing.

Labour has a tendency to pursue policies that have a bare majority in focus groups but which the minority, who are later proved right, consider crass.

Such a case was trying to incarcerate all travellers in quarantine hotels during covid.

*****

Banks are estimated to have paid out in the region of £40 billion in compensation for PPI misselling.

To send out council employees with a clipboard and checklists street by street to 'advise' on energy efficiency risks exposing the public sector to claims that could dwarf this if the advice proves to be faulty.

*****

Once again it would be better to make an energy efficiency and anti-water penetration grant (most mould problems are caused by water penetration) available to domestic properties, of £2k in the case of a house, approved online with a very simple approvals process operated by councils and biased towards getting things moving.

People will then turn to builders, and people in the professions if they can afford them, as sources of real knowledge and expertise, to keep work to what has most effect for the money.

The nation is fed up of assessment by checklist. There is a serious decline in respect for expertise in Britain.

The people interfacing with the public at NHS Test and Trace were in no sense experts and the outfit largely wasted £17 billion. That this organisation was not personally conceived or designed by ministers or by the NHS bodes ill for an opposition thinking it can come to power, give orders and the civil service will sort it.

It currently cannot because recruitment significantly apes the private sector. The independent thinking is going in favour of order taking and groupthink. The expertise has already gone.

It simply cannot design the levers and when they are pulled they will not work as with NHS Test and Trace.

This bodes ill for overblown aims for public projects.

*****



Inside the snail, Saw Swee Hock Student Centre, London School of Economics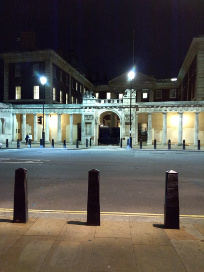 Part of Robert Adam's Admiralty Screen, Whitehall - an early commission contemporaneous with his work at Hatchlands


*****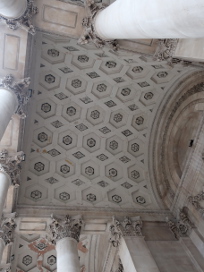 Portico coffering - Royal Exchange building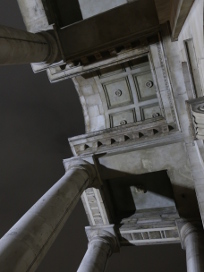 Christ Church Spitalfields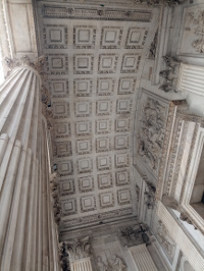 St Paul's Cathedral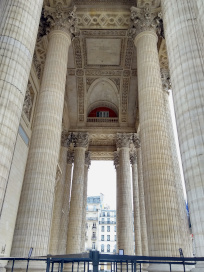 The Pantheon, Paris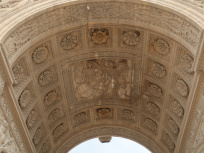 Arc de Triomphe du Carrousel



WELCOME to the ARCHITECTURE pages of WORLD REVIEWS!



We have the following reviews in this section :



ARCH0011/1221 click here for:
PEOPLE NOT LAND
Reviewed by ANDRE BEAUMONT

ARCH0010/0419 click here for:
CITY REVISTED
Reviewed by ANDRE BEAUMONT

ARCH0009/1117 click here for:
THE RSA HOUSES
Reviewed by ANDRE BEAUMONT

ARCH0008/0916 click here for:
OSTERLEY PARK
Reviewed by ANDRE BEAUMONT

ARCH0007/0113 click here for:
MANIFESTO
Reviewed by ANDRE BEAUMONT

ARCH0006/1011 click here for:
HIERARCHY AND PROFESSIONALISM
Reviewed by ANDRE BEAUMONT

ARCH0005/PAOLOZZI click here for :
THE COMMISSIONING OF EDUARDO PAOLOZZI
AT TOTTENHAM COURT ROAD UNDERGROUND STATION
Reviewed by ANDRE BEAUMONT

ARCH0004/TRINITY click here for :
TRINITY COLLEGE, CAMBRIDGE'S GREAT COURT
Reviewed by ANDRE BEAUMONT

ARCH0003/NEWMARKET click here for :
NEWMARKET RACECOURSE
Reviewed by ANDRE BEAUMONT

ARCH0002/WOOLNOTH click here for :
ST MARY WOOLNOTH
Reviewed by ANDRE BEAUMONT

ARCH0001/LLOYDS click here for :
LLOYDS BUILDING, LONDON
Reviewed by ANDRE BEAUMONT




25 January 2022

Local authorities deserve some sympathy in having inadequate funding but it only go so far.

In the height of austerity during the coalition years, they showed gutlessness in resisting the cuts thinking that residents of their neighbourhoods could be squeezed and cheated of statutory rights and not notice or be treated as toothless.

A decade of this and centralisation has left society questioning whether they can fulfil the portfolio of their functions or whether those they have failed with should go elsewhere wholesale.

Some authorities have taken building control fees but failed to perform the function properly.

This is aggravating to the architectural profession who appreciate building control rigour adding to site safety.

Likewise, planning authorities have frequently failed in their statutory duties and performance.

How then can we say leave it to local authorities to determine the volume of development in their area and cut central quota imposition?

Sometimes both the officers and the councillors are not up to their legal duties.

This calls into question the whole structure of democracy.

Attempts to compensate for local authority failing by giving regional mayors power have been made but a truly democratic answer is not so often reached.

Quasi-prefects and quasi-governors do not add much to democracy, if at all.

Other ideas, like democratic consensus, may have to be considered.

If there is sustained or sizeable objection to something locally, not necessarily amongst politicians, even if a majority is available to push it through, the idea should be stayed as there is no consensus.

Accommodate the objection because the turn of those behind it will come as well in a local society.

Or maybe Britain is in the forefront of a new approach in democracy - the first democratic country to abolish local authorities?

It is not entirely fanciful. The best idea that New Labour produced was direct, non-party election to hospital trusts. Party positions cannot cover the waterfront of views.

Non-party election to local authorities, enshrined in law, might be an answer that has sufficient logic to stay abolition.

Or, maybe, the available majority will push through de facto abolition.