---
For publication dates click here
Read our Copyright Notice click here
---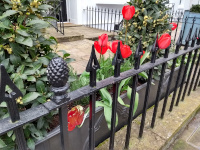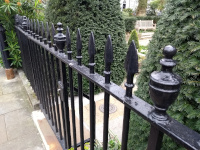 A bad design is a bad design and just because a bureaucratic authority has invested time or money in it does not mean it should go ahead but a good design is a good one and railings used to be a cheap way to do a job yet allow people both within and without to see the space. If we do not continually oppose bad urban space we will get bad.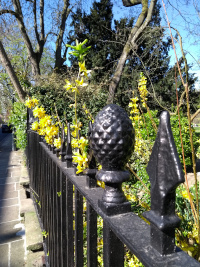 *****
As a journalistic outfit we will, we rather think, do something about it depending on what happens. It fits with the time.
After, and maybe during, Covid-19 the era when bureaucrats could hide behind elected representatives who have not the time and, in many cases, the intellectual bandwidth to have dreamt up what is done in their name, is coming to an end. By chipping away at democracy, bureaucrats have exposed a new, unexpected flank to accountability.
Forensic examination of what they do, especially their omissions, becomes opened-sourced when what they do is patently not widely beneficial.
Their defensive guff falls into dead space.
*****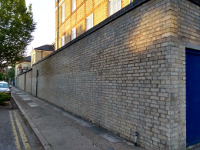 2020 Fortunately the wall, one of the most elegant in the city, is currently restraining potential Covid-19 transmission to the community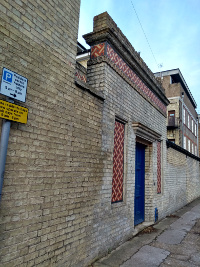 2021 The decorative work is now commented on by passers-by as it continues on elevations and the wall, sand-blasted some years' ago, recognized as the best school wall in the county of Cambridgeshire, emblematic of the conservation area of Newtown.
*****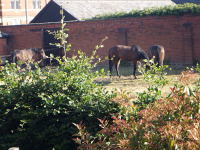 Urban paddock, as a good conservation officer will say, is urban paddock, and without a legislative change all must remain in Newmarket, whether it has been Tarmaced to look different or not.
People are fed up of incurring substantial financial losses not because their view is blocked but because their light is.
*****
Now here is an idea as legislation is in the offing.
A clause inserted in the Bill requiring any party filing a statement on behalf of a property owner, to sign a declaration that the rights of light of neighbouring properties have been fully considered and not infringed. This would make the agent liable directly as the current first recourse is to sue the property owner or those who have breached statutory duty.
*****
On the same tack, parties converting office buildings without requiring planning permission to flats should sign declarations that they have not infringed neighbours rights of light and that they have provided sufficient natural light to flats created within the buildings.
If this round of legislation does not deliver another should be proposed.