Read our Copyright Notice click here
For publication dates click here
The sun has more net energy to give than the ground without piercing water tables, going through drains or undermining neighbours' foundations as ground source heat pumps frequently will.
If utilities do not want electricity exported directly to the grid the surplus energy can be stored in the equivalent of a large immersion heater tank or stored in an electric car.
The electric car can additionally be connected through a standardised charging connector to a smart community network supplying the grid with electricity at times of peak electricity demand and charging the car again at times of low demand.
*****
You cannot divorce the emerging cladding crisis from insulation.
The reason the contentious cladding may contain materials such as plastics or foam is for their insulation value or to reduce weight. They do not add to loadbearing capacity, structural integrity or weathering compared with other materials; probably the reverse.
The cladding crisis is an insulation materials crisis.
Pressure to insulate cheaply has led to the use of these materials and they have been deployed beyond cladding where it might have been better to use heavier, non-combustible materials.
The spread of flame risk may be less in these other contexts but before the findings of the Grenfell enquiry are published we should hold off any dash to insulate using these materials.
Residential buildings do not need to be airtight either. In most cases they should be allowed to breathe - to have air changes - to prevent condensation and the build up of viruses, bacteria and spores within them detrimental to good health.
Look at the recent residential tower block blazes (since low rise fires are less reported at a national scale) and at schools with misted up windows during coronavirus and these lessons should have been learnt.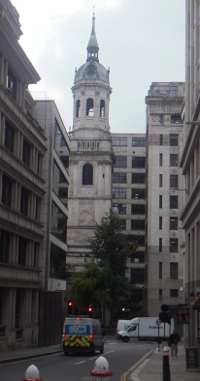 We learnt from the Great Fire as we did 400 years later from Ronan Point. No longer were churches combustible; no longer would tower block floors collapse or cladding readily blast outwards. What had been accepted practice had to change. The tower of Sir Christopher Wren's Grade I listed St Magnus the Martyr
The late Victorians were the most environmentally conscious builders we have ever known, especially in southern England which has different climatic conditions to the rest of the U.K. where driving rain is more of a problem.
A proper understanding of natural ventilation minimized the dangers of coal combustion until the great boon in comfort brought about by natural gas central heating in the 1960s.
The old town gas was poisonous and its combustion a bit dangerous to leave unsupervised, especially if the flame went out. Coal or coke, unsupervised, was safer.
The subsequent greater industrialisation after the Victorians of building material production resulted in some dangerous products - asbestos, formaldehyde containing chipboard binders, CFC-emitting and flammable foams and an increasing load of plastics in domestic buildings, some of which the post-millennium building regulations regime is too agnostic about.
Eventually, natural gas space heating will go but only when all electricity generation is renewable - a government objective - and the price of electricity not too far distant from that of natural gas supply.
The net price differential could be narrowed if householders were encouraged to generate some solar power but both the climate change lobby and government have been largely silent on this, another strategic error of both like encouraging diesel technology (a way to burn a somewhat unwanted and dirty fraction from the oil refining process) in the past.
In most residential cases heat pumps and hydrogen will not cut it on environmental and safety grounds but at least the government is being encouraging to entrepreneurs in this field. It is in the nature of science and engineering that most of what science demonstrates as technically possible is not in engineering terms feasible at a mass scale.
Unless one is to move to energy consuming mechanical ventilation, the need and desirability of natural ventilation in British dwellings will remain. If these produce 14% of carbon emissions any comprehensive insulation regime will reduce this by a maximum of two percentage points and possibly not at all because it is well known that insulation upgrades tend to happen when people want to expand their living space and that, too, needs heating.
*****
'Levelling up' can work. After the Grenfell inquiry has concluded - and it has already made some findings - offer some grants in the coldest parts of Britain; forget about approving the builders used; let the householders apply the grants for energy efficiency in the way they choose and see the creative solutions that result.