Read our Copyright Notice click here
For publication dates click here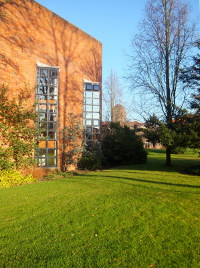 Part of Robinson College with the University Library in the distance
*****
More unusual organ music - French and Belgian: Marie-Claire Alain video
*****
Other Cambridge organs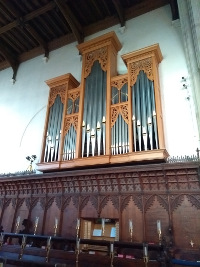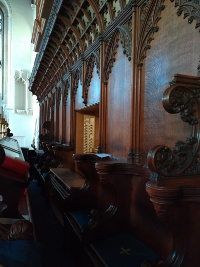 Great St Mary's, the University Church, has two organs, the 1991 Parish organ and the 1698 University organ (below).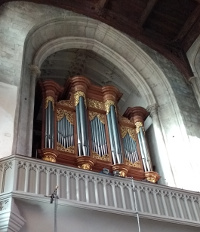 I attended an accomplished recital by Dr Anthony Gritten on the Parish organ on the 29 January 2019, including some interesting French music.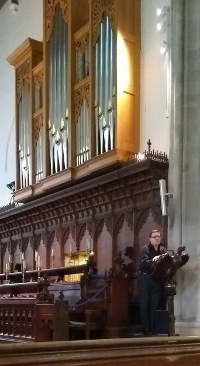 Dr Anthony Gritten speaking before the recital
On 13 February 2019 I attended an intriguing Organ Spectacular where the church's three organists, Samuel Hayes, Benedict Todd and the new vicar, Adrian Daffern, played the two organs, sometimes together.
I had to leave at the interval so I should not be reviewing it but I did hear all three play Bach's Toccata and Fugue in D minor and a Buxtehude Praeludium, Fugue and Chaconne (BuxWV 137), the first two play Tomkins and Nivers, Adrian Daffern some Kellner, Samuel Hayes the Dorian Toccata and Benedict Todd some Mulet.
This was such a fun concept, including music most may not have heard before, that it would be splendid if it could become a regular fixture in the calendar.
*****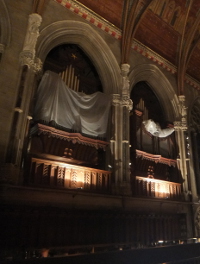 St John's College Chapel organ
On 4 April 2019 I attended a recital by Stephen Farr at St John's College Chapel. It was a really convincing bringing out of what this organ can do and included Jehan Alain's Aria (1938).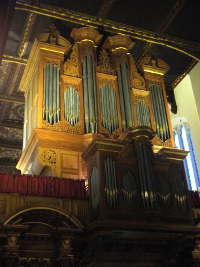 Trinity College Chapel organ
Quiet is not silence; the social does not insist but it is always here if you want it, especially for the exchange of ideas [1]; you do not have to conform to any stereotype here. Trinity always grants the peace to think and the results across the centuries have been extraordinary.
Is a little of it because we subconsciously hear the fountain in Great Court and air on stone, cobbles and grass, ever so soothing, even in the middle of an organ recital?
The Metzler organ sounds better and is more appreciated with the passage of time and on 5 April 2019 we had an exemplary recital of Bach, Bach related and Bach period music, on the organ in Cambridge for it, by Daniel Moult.
After each piece we clapped but just after a J.G. Walter piece the clock tower bell chimed once with a characteristic Trinity sound and before we could do so Daniel Moult launched into the J.L. Krebs Toccata and Fugue in E.
The sound of Trinity and the organist had beaten the audience? Our clapping at the end of the recital brought the organist back three times.
Then I wandered out into the extraordinary sound of the quiet of Great Court, like a symphony of reverberations of water and more, with most of the students away for the Easter vacation.
It is worth noting that birds will never break their flight and land here whilst they will in the equally large man-made space of Parkers' Piece. Nearly never a crow or pigeon. They can hear it - sound immensely beneficial to humans but unnatural to them.
*****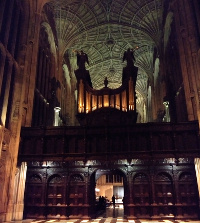 On 26 October 2019 I attended a recital by Christopher Too at King's. I liked the Ralph Vaughan Williams, arr. P. B. Beardsley, Fantasia on a Theme by Thomas Tallis best but here's a thing: on the way out I heard the fountain in the centre of the court loudly running, a sound absent or inaudible to all memory. (I suppose it is fed by Hobson's Conduit and might run vigorously after heavy rain.)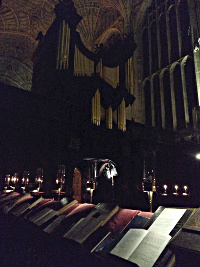 On 2 November I attended a recital by Daniel Hyde, the new director of music at King's, and by now I've worked out the sweet spots to sit for low note resonances and the Vierne Final, at the end of course, (Symphony No.1 in D minor Op. 14), was a treat for those. [2]
*****
I am saddened to hear of the death of Sir Stephen Cleobury, the director of music at King's for 37 years. The world is full of beautiful recordings and broadcasts by him.